In the midst of a Summer that was busy to say the least, I was shocked to discover that I was going to have five days to take a little motorcycle trip. So where to go? With only five days, the Rockies were out , so that left heading North, South, or South-East. I put up a poll in Region 4 of Sport-Touring.Net to help me decide, which suggested heading North into Wisconsin and the U.P. of Michigan. So North is where I pointed my bike on the morning of July 25th 2007 and proceeded to wander through North-Western Illinois, Eastern Iowa, and South-Western Wisconsin. Here is the bike, early this morning as I prepared to hit the road:
My first stop for a photo was in the town of Toulon, Illinois. Just a touch of the regional flavor from home. That is the Stark County courthouse:
From there I meandered North and West on back roads. I could have taken any of several interstates to speed things along, but I wanted to take in the sights of Summer as I went. Aside from not making great time, the other downside is roadkill. Of which I helped to create more, when I hit a raccoon with both tires. No damage to the bike, I was startled by the experience, and the raccoon was very dead. This is a nice road I stumbled onto outside the Quad Cities after the roadkill incident: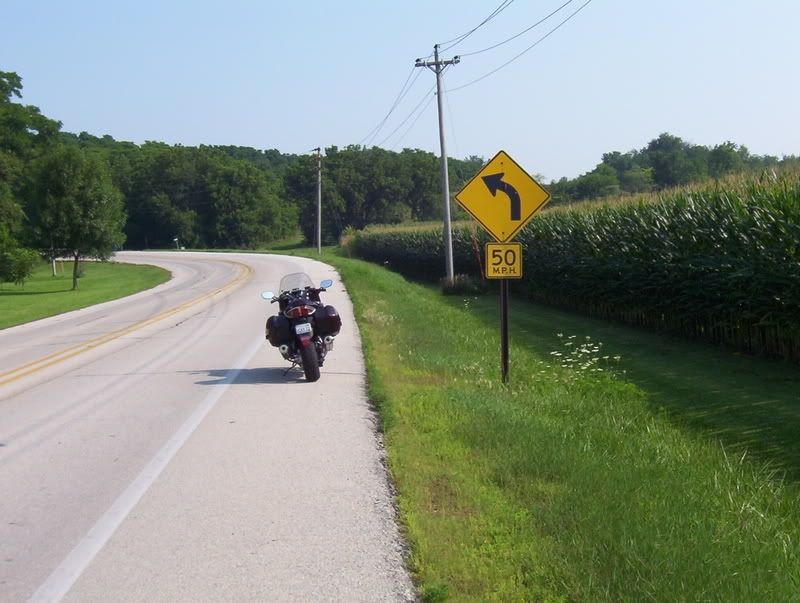 The mighty Mississippi overlooking the Clinton, Iowa area: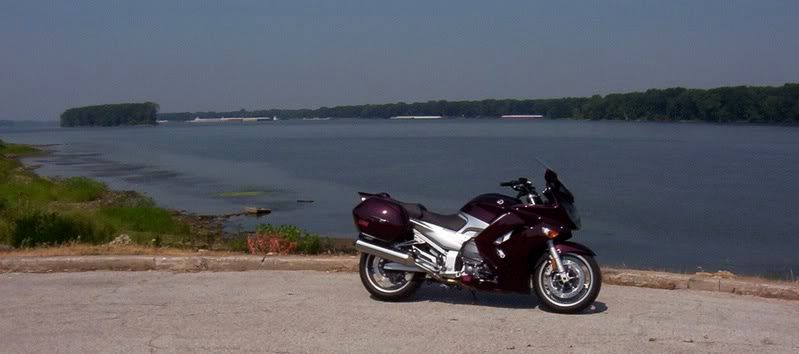 On the banks of the river near Fulton, Illinois is a real Dutch windmill. It was recently built for the town by a Dutch company, shipped over, and assembled. Apparently there were a lot of Dutch immigrants to the area at one time.
Another shot of the Mississippi. This one taken from an island park connected to both Illinois and Iowa by bridges.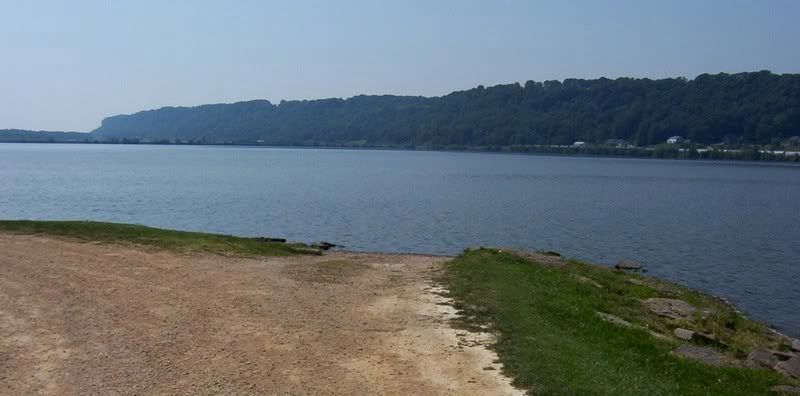 Time for lunch. I ate in Galena, Illinois. Which is a nice town in the far North-Western corner of the state. It has become a bit of a tourist trap over the years, but it is a very pretty town with good roads in the area.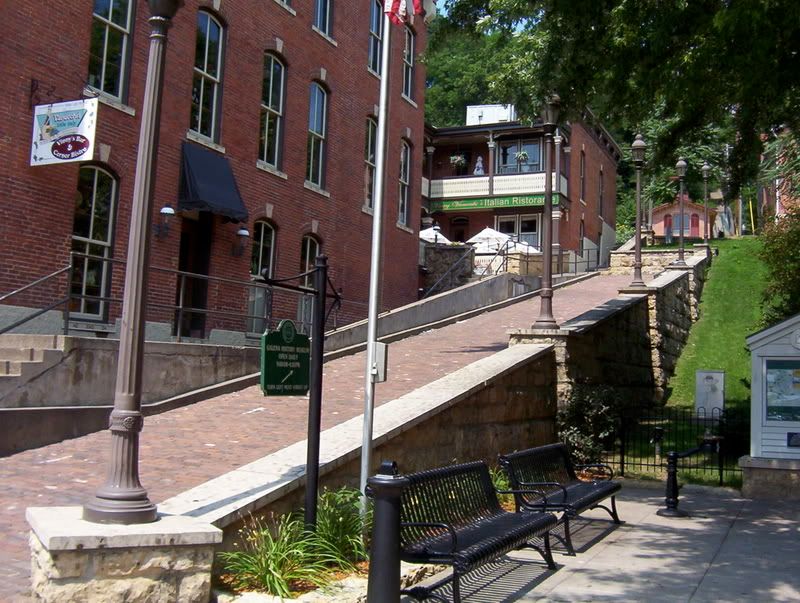 A view down one of the main shopping streets in Galena: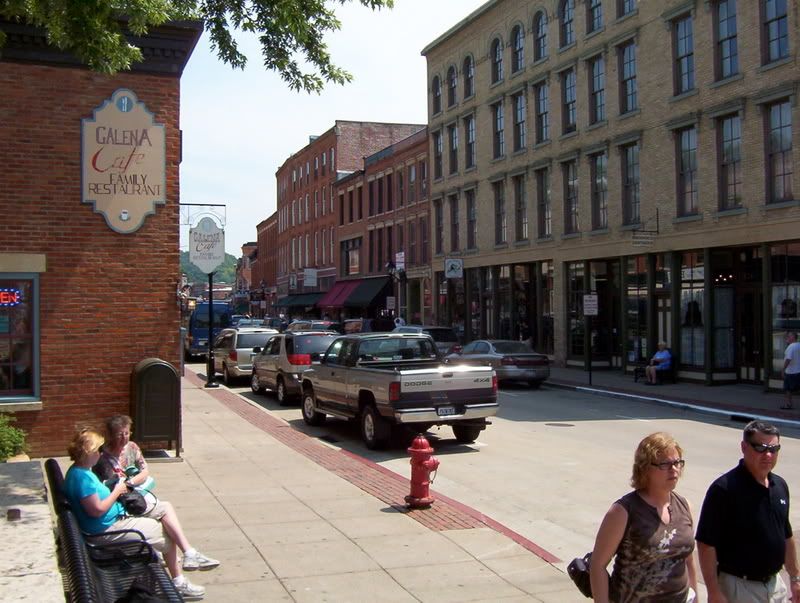 I left Galena taking Stagecoach Road to the North-East. It really is a nice road. The pavement was new and the sweeping turns were a lot of fun. It was a nice taste of what was waiting for me in Wisconsin. Sadly the traffic was a bit thick so I explored some other smaller roads in the area, like this one: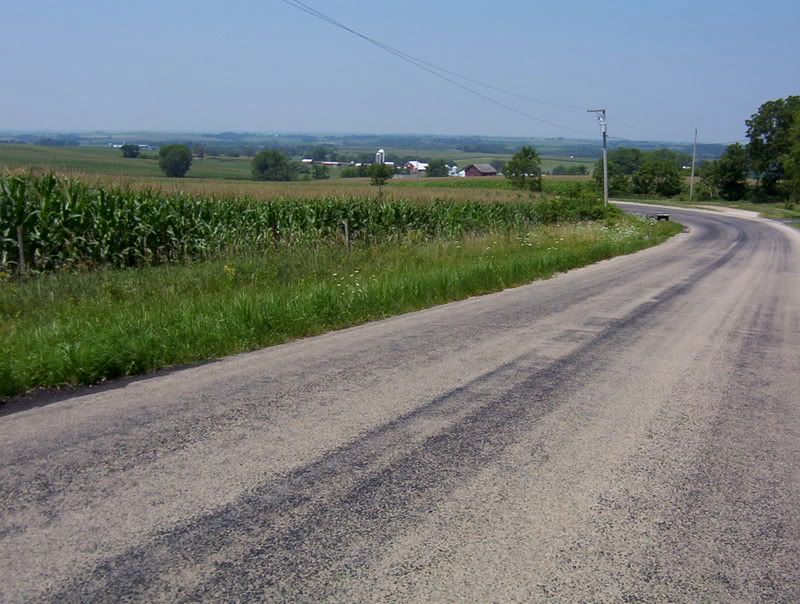 Soon I was in Wisconsin, where I would spend most of my day.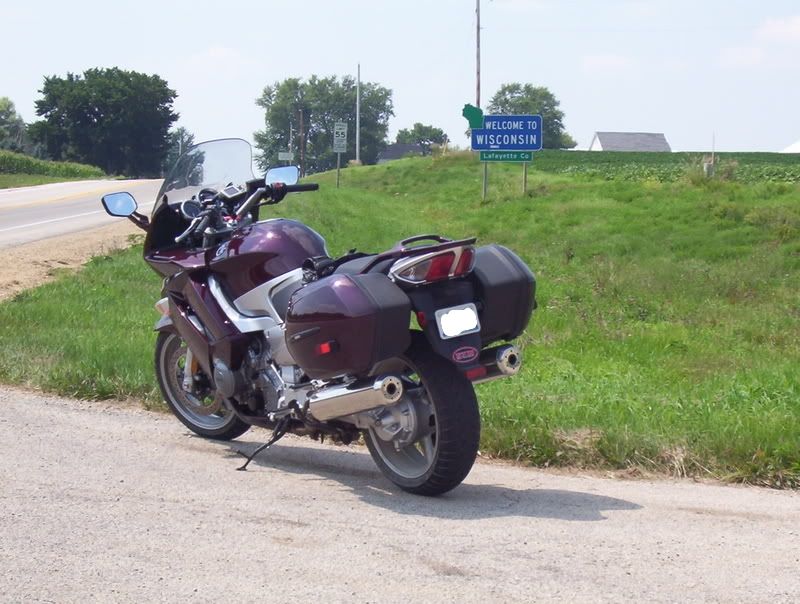 I wandered up 78 and played on the county roads around Governor Dodge State Park. I did have some nice pictures. Or rather I should say, I thought I had some nice pictures. Apparently my camera didn't save them. I took 130 North to Lone Rock and then wandered East to the Frank Lloyd Wright estate called Taliesin. Another pretty area which is just a few miles North of the House on the Rock.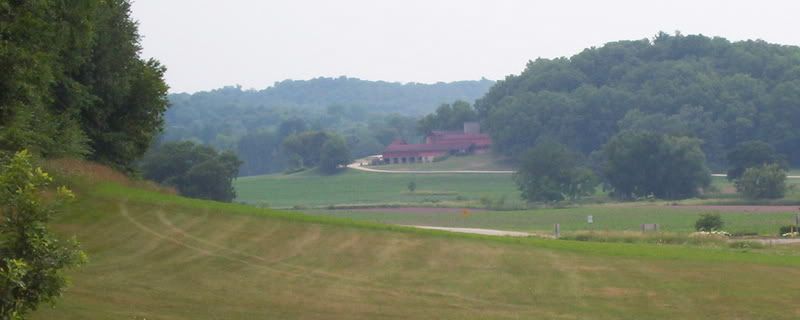 I only stopped at the visitor's center for Taliesin and didn't take any of the tours of the actual estate. I was running out of day by this point and the tours were very expensive.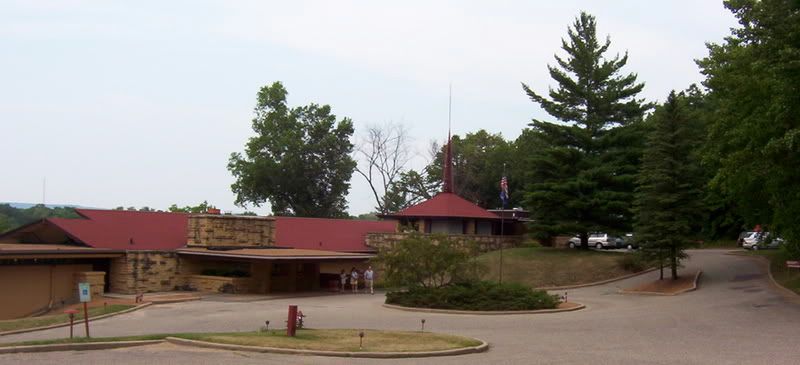 This. Is. Sparta!
Due to the previously mentioned camera issues, I have no other pics from Day 1. I did ride some fantastic roads in Sauk County. Route 80 was pretty. Route 33 was awesome, especially in the area of Wildcat Mountain. By that point I was getting very tired, hungry, and anxious to find a place to sleep. So I took 27 North to Sparta to find food and lodging. Got food, but all the hotels were booked up. What madness was that?!? So I ended up riding further North to the Majestic Pine Casino. Day 1's stats were: 497 miles; 9.5 hours in the saddle; and 13 hours total time. Day 2 started where the previous day ended, in Black River Falls at the Majestic Pines Casino/Hotel.
That was a nice place. They even had dedicated motorcycle parking close to the doors, with a cement strip in the asphalt for kickstands. From there I wanted to head North and West to eventually end up in Duluth, Minnesota to visit Aerostitch. So off I went up Route 27. Which ended up being a pretty road in that area, but not really all that curvy.
A bit up the road I took route 64 West to get to Route 40 North, which looked interesting. Route 64 was also pretty and scenic, with some nice sweepers. The road wandered through forests that would give way to farmland and pastures, then plunge into pine and birch forests again. Route 40 was similar with miles of sweepers with fantastic views as it wound through forests and around lakes.
I had lunch in a town called Bruce. Nice place. Great chicken noodle soup.
The best road I was on that day was County Road F that I took North from Weyerhaeuser, Wisconsin. It runs through Rusk and Sawyer counties. This road rocks! It has a nice combination of sweepers and tighter turns. The pavement was good and the road surface was fairly wide for a county road. The elevation changes are fun as it follows lake shores and then heads back into the hills.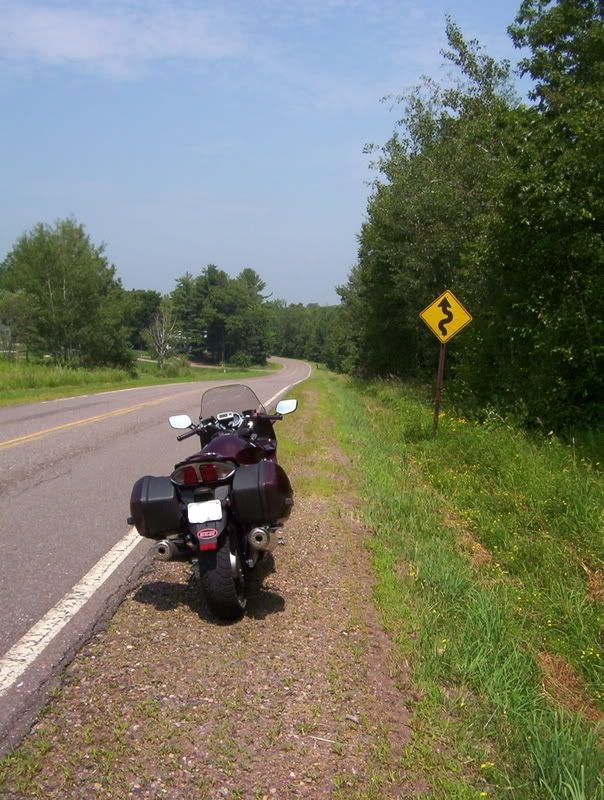 Near Hayward I got back on Route 27. As I was passing though town I saw a really big fish. Actually, I saw many really big, fiberglass fish in this park/museum. But the big musky was what caught my eye. This thing was about three stories tall and over 100 feet long. I had to stop and take some pics.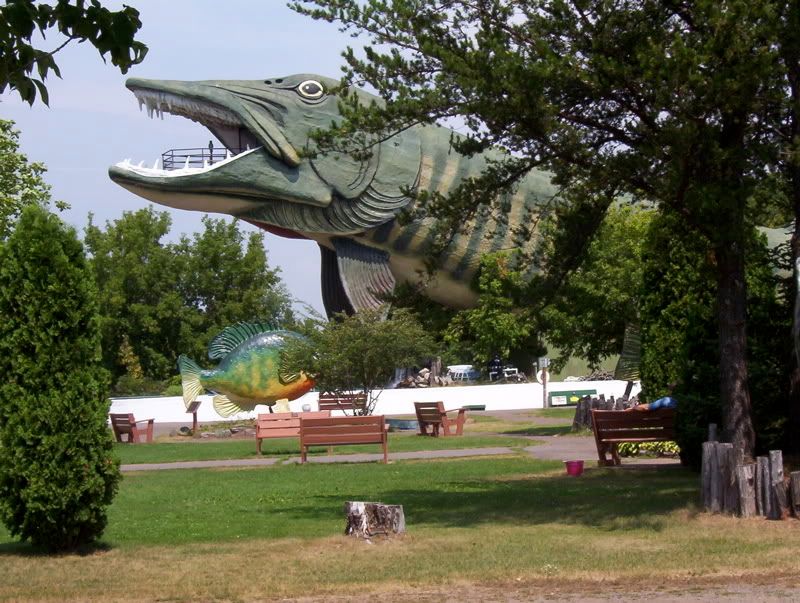 To give you an idea of scale. Can you see the people standing in the mouth of the fish in this pic?
In other interesting sights. I snapped this pic along the road somewhere. It was a memorial to Wisconsin soldiers, but I just can't remember what town it was in.
By this point I was in Northern Wisconsin, running out of day, and watching as ominous clouds rolled towards me out of the West. Which was incidentally the direction I wanted to go. It wasn't long before I was dashing into and out of brief showers. So I stopped and put my rain gear on and zipped up the vents in my jacket. Unfortunately this created my own personal portable sauna. Hmmm... Sweaty. On a side note, there sure are a lot of deer up here. No close calls, but I saw several cross the road or stare at me from the trees as I rode past. By the time I got to US Route 2 to head West into Duluth the rain was getting to be constant and with that came a welcome drop in temperatures. The closer to Duluth I got, though, the more menacing the sky became. Then came the real rain. All that pissing around before was a pale shadow of the fury that let loose on me a few miles away from Duluth. Nasty cross winds, huge gusts, heavy rain that became even heavier. Once I passed through the front, the winds let up and it was just a nice, cool, steady rain.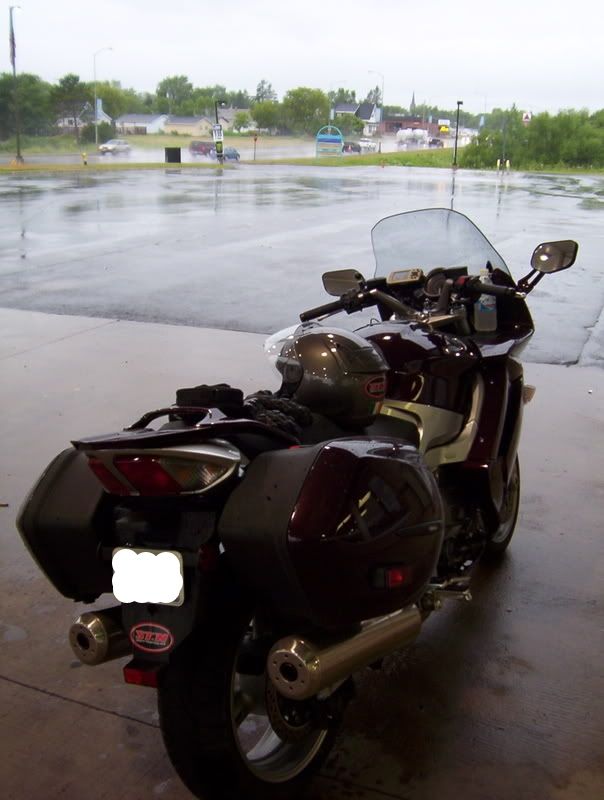 I made it to Aerostitch, despite the best efforts of the weather, rush hour traffic, and the terribly confusing Duluth interstate exchange system. It was a conspiracy of annoyance, I tell ya.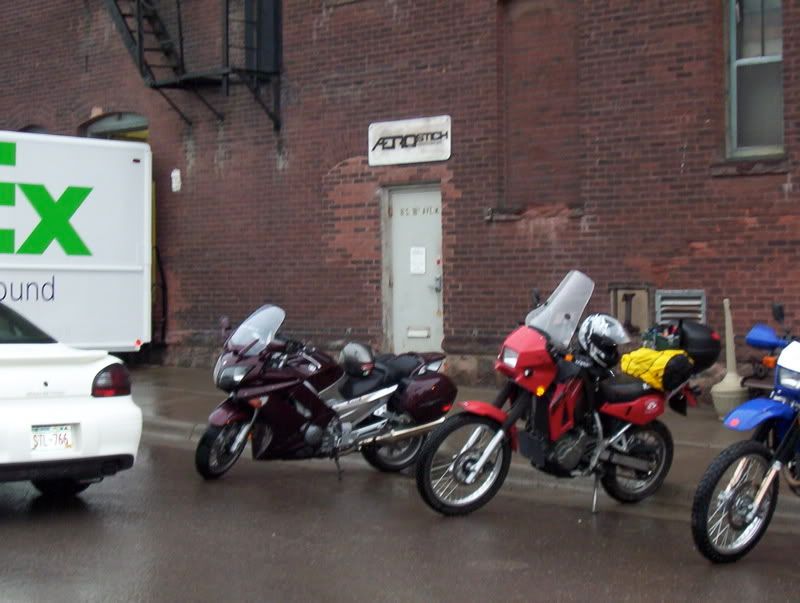 While there I tried a Stitch. Wow. Those things are stiff when new. I didn't buy one of those though. I wasn't the only customer who rode there today. There were three guys from Canada there to pick up some gear. And I did a little shopping too. I got some Olympia gel gloves to replace my very well used Joe Rocket gloves, some Nikwax glove treatment, and an Aerostitch tire repair kit. The gloves seem nice and will hopefully be my new Summer gloves. The tire kit is insurance. I'm hoping that by buying it, I'll never need to use it. Finally, I was ready to call it a day and find a place to eat, work on this ride report, and sleep. So stopped in Brule, Wisconsin at a nice little motel. There was a restaurant next door, and oh, it finally quit raining.
According to the GPS, I'd gone a total of 801 miles so far. Next up, explore the Southern coast of Lake Superior and eventually the U.P. of Michigan. I left Brule on Day 3 and headed North to Lake Superior. There was nothing remarkable about the roads around there, but the views of the lake were great. The fog was burning off in patches, leaving tendrils of mist that reached out of the woods onto the road or lake.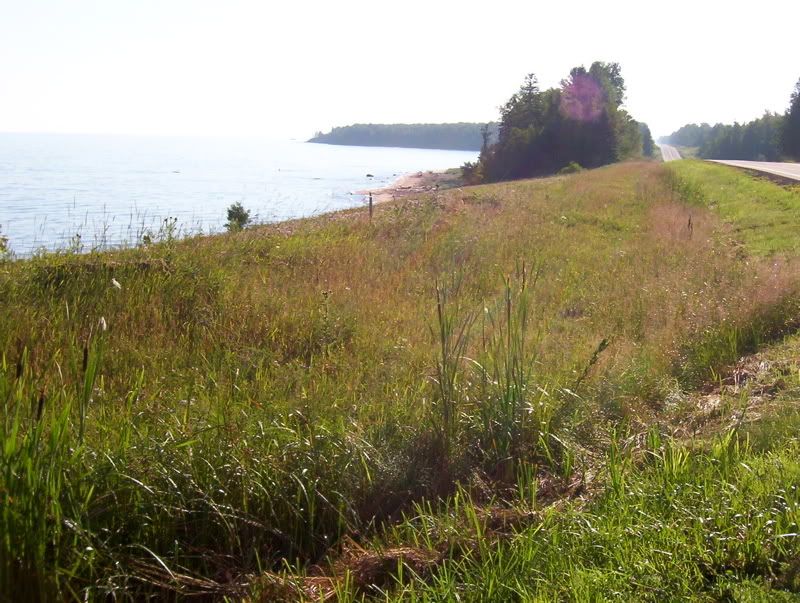 All that rain the day before had blown in some nicely cooler weather. It was in the 70s most of the morning and didn't get too much warmer through the day. Welcome relief from the high 80s and low 90s of the previous afternoon.
I followed the Southern lake shore to the East, mostly on Route 13. The coastline was pretty and as I got further out onto that peninsula, the terrain got hillier and therefore twistier. There were still many chances to get close to the lake.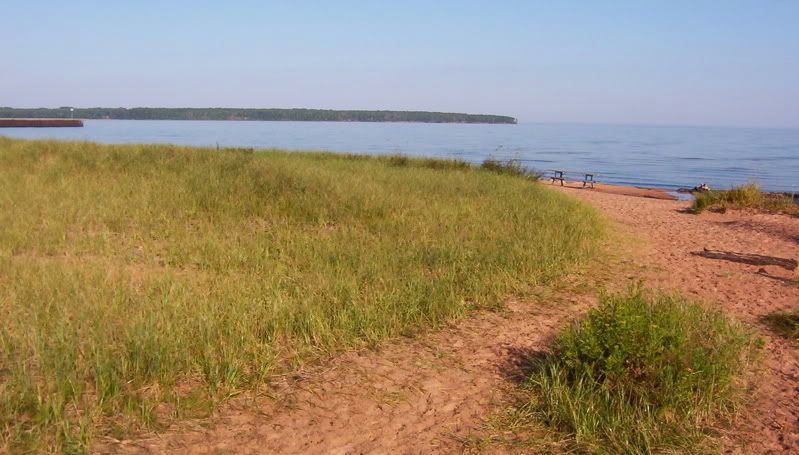 East of Ashland, Wisconsin I found another road that wandered close to the lake. This ended up also taking me across the border into Michigan. Along that road I saw this dredging set up at a boat launch.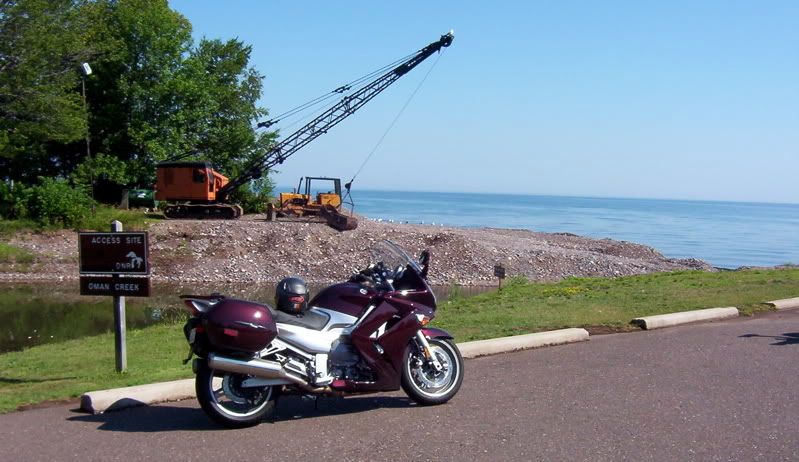 On the way to Copper Harbor at the far end of the Keweenaw Peninsula, I went through the Ottawa Forest.
Before long I was in the Houghton area, which is home of the Michigan Tech Huskies. This view is from the north side of the valley, over looking downtown Houghton.

From there it was the longish ride North to get to Copper Harbor. Both Route 26 and US route 41 go up that way. On the way north I took Route 26, which follows the coast. This was a nice, tree lined road along the banks of Lake Superior with lots of sudden curves and elevation changes. I enjoyed it, but sand had blown onto the road in several places, making hard cornering a risky endeavor. I had the back end of the FJR step out on me a couple of times, before deciding that I'd better just slow down to a more leisurely pace.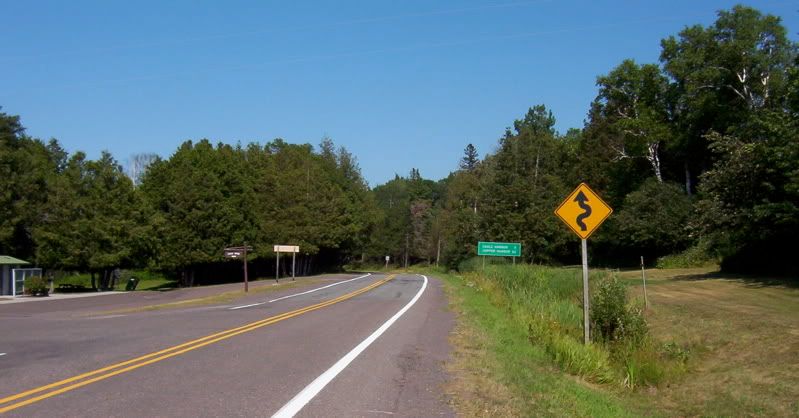 Here is a view of Copper Harbor from the boat dock. You might be able to see the lighthouse in the distance.
Ah. The end of the road. I had travelled as far North as I could. Time to turn around. That picture marks the far point of my travels. From then on, I'd be heading more or less towards home.
On the return trip down the peninsula I took US route 41. This road was fairly technical and twisty in the far North which gives way to sweepers further South towards Houghton. No sand on the pavement here, since this road is much further inland than Route 26. It was a nice road, so nice I couldn't be bothered to stop and take a picture of it. I did stop and take a shot of an abandoned building along US 41. The whole area had been a center of mining and lumber. I'd guess that building had something to do with one of those industries, before times changed.
Back in Houghton again I tracked down a hotel and dinner. A view of the street: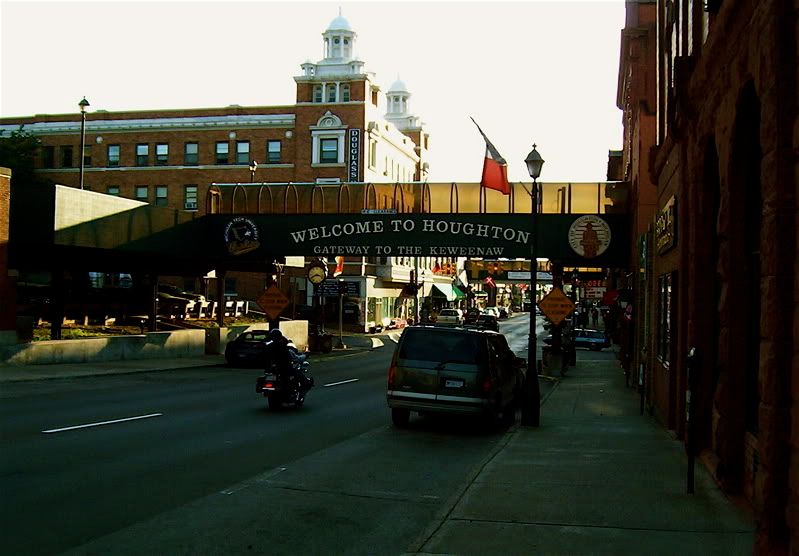 Here is the really cool and BIG bridge that spans the Portage Lake and connects Houghton to Hancock. It apparently lifts the road deck straight up to allow ships to pass underneath.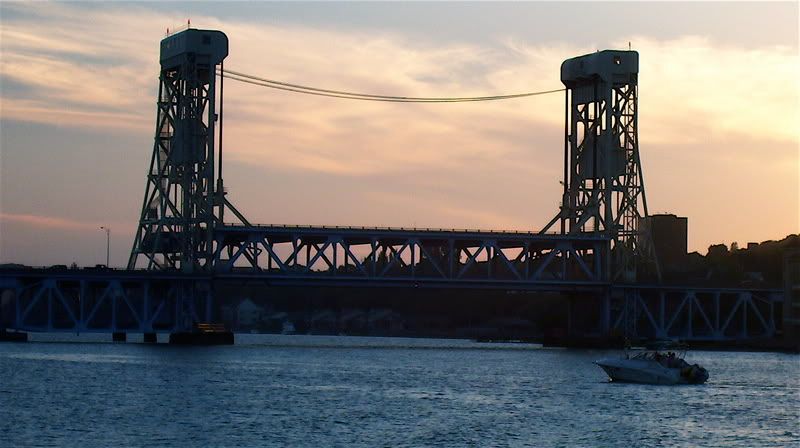 And lastly, here are some more abandoned industrial buildings, just across the water from Michigan Tech.

Overall I enjoyed my time in Michigan. According to the GPS, I'd gone a total of 1180 miles since leaving home. My moving average was 53 MPH. Leaving Houghton on Day 4, I rode South towards Wisconsin. Along the way I stopped at Bond Falls outside Paulding, Michigan.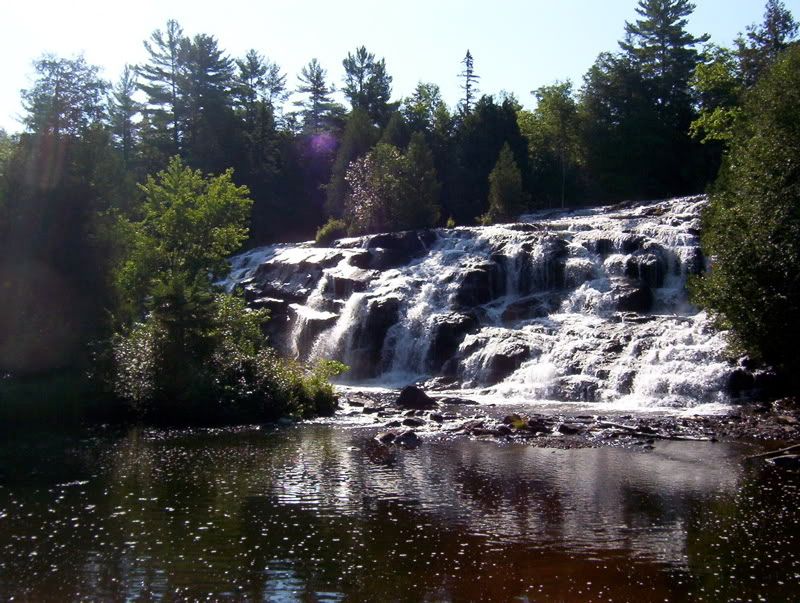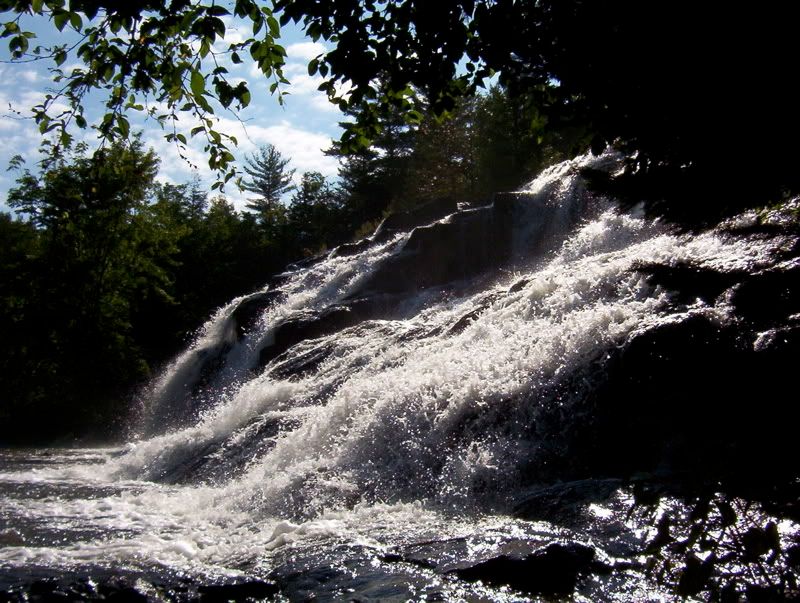 And here is a pic of me at the falls. I was the only person in the park this morning.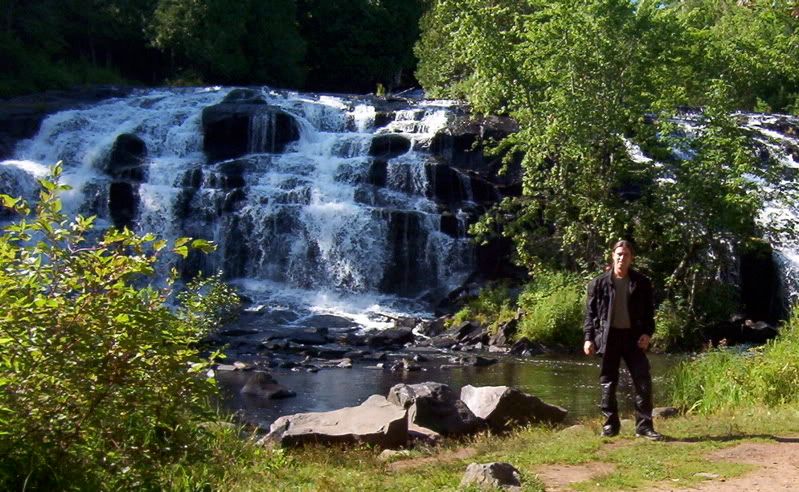 From there I wandered South to Thousand Island Lake Road and took that into Wisconsin. A nice road, if a little bumpy. Eventually I ended up the Land Of Lakes area of Wisconsin around Boulder Junction. A bit south of town is County Road K, which was wonderful.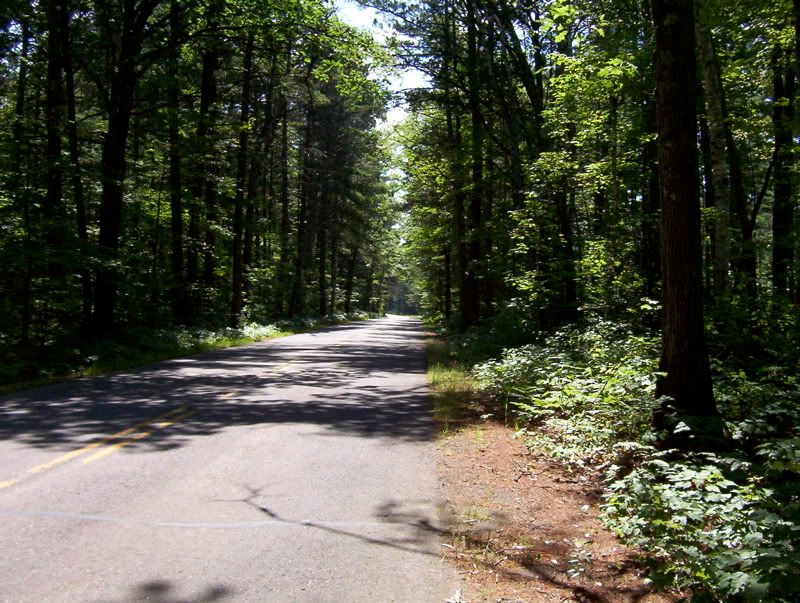 Eventually I noticed on my map that I wasn't too far from the highest point in Wisconsin. So, I decided to go see it.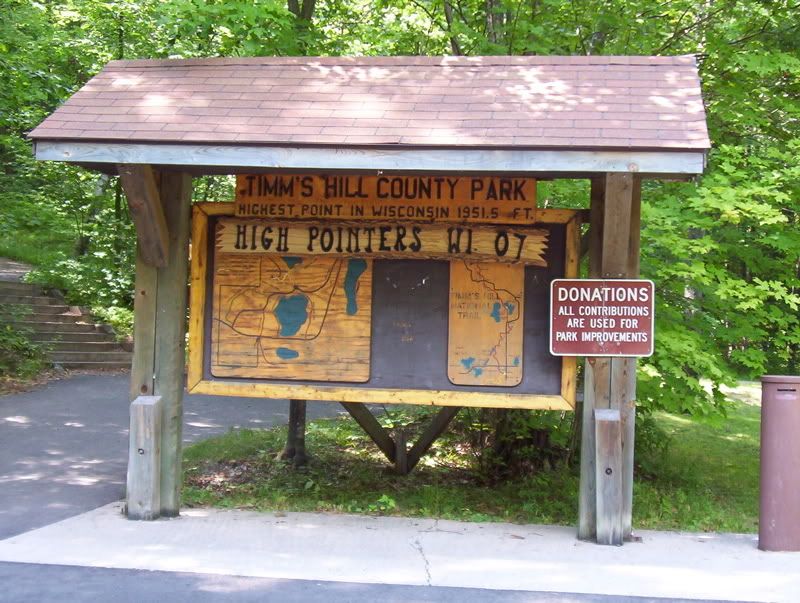 This was pretty cool. You get to the hill top by riding on a narrow, asphalt trail to a parking lot. From there it is a 300 yard walk up a gravel trail to the top of the hill, where you are greeted with this tower: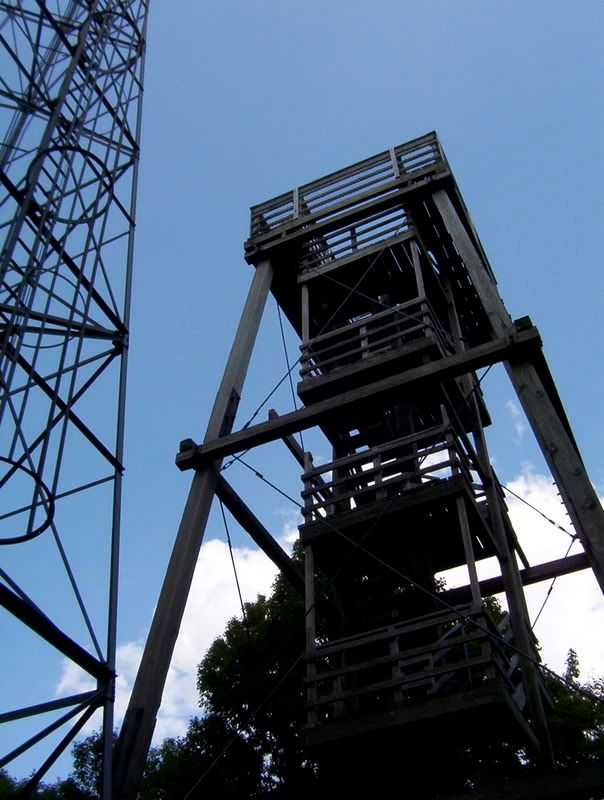 Climb to the top of it and you get this view:
From there I headed South for a while and then had to make a choice. Go South-East towards Oshkosh as I had planned. Go South to the Wisconsin Dells area. Or go South-West generally towards the House on the Rock. I called a number of hotels trying to find a room, but that was a grim proposition to the South or East. So I went South-West, eventually finding a small motel in Union Center, Wisconsin that actually had a room available. So I started the day in Houghton, Michigan and rode most of the way across Wisconsin diagonally. I was glad to be done for the day. It was a fun and rewarding ride, but a bit longer than I planned. The GPS said I'd gone 1625 miles, 445 of them that day. Which wasn't my longest day, but it felt like it. On Day 5, I left the nice, little motel I'd found the night before and headed more or less West toward the Mississippi.
This was pretty country, full of hills and farms. The Amish were out in force on the roads. I assume coming to or from Sunday church services. I eventually made my way to Prairie du Chien, Wisconsin to have a late breakfast (or early lunch.) I didn't take many pictures that morning. Just wasn't in the mood, I suppose. After eating, I crossed into Iowa and pointed the bike South along the river. Much as it was on the other side of the river in Wisconsin, the roads were full of wide, sweepers with nice views.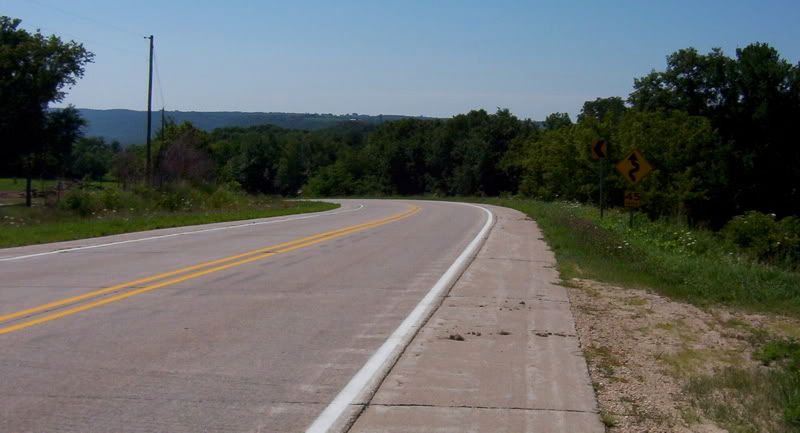 Before long I was in Guttenburg, Iowa. Here was the road decending down the river bluff into town.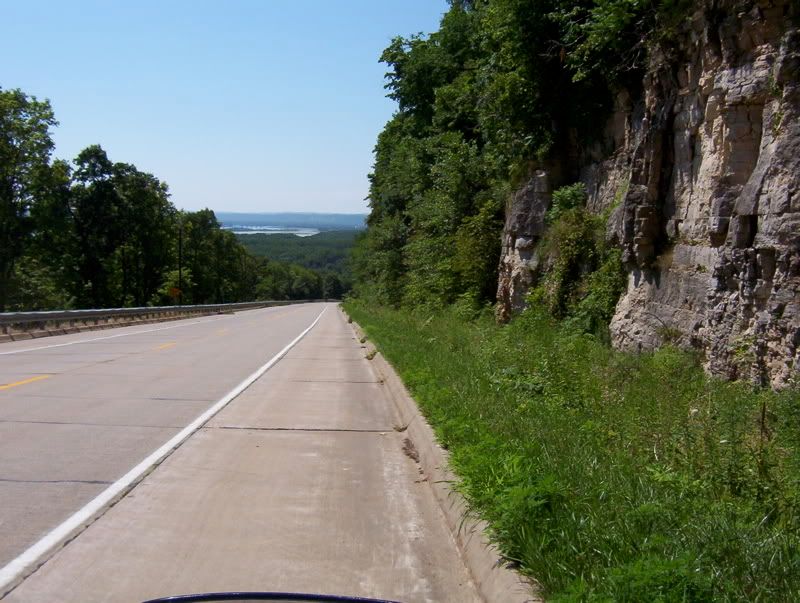 And a view of the river from a scenic overlook just South of town: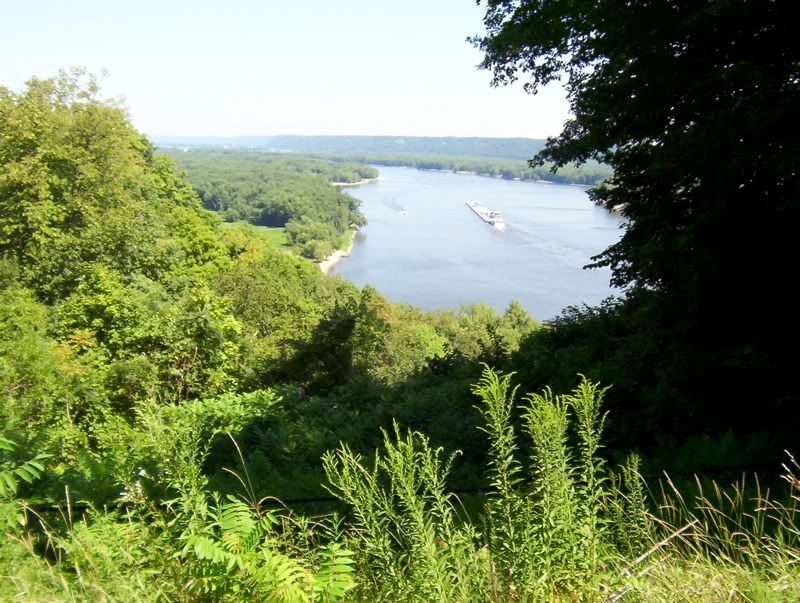 As I continued on my way I came across Iowa road C9Y. This is a fantastic Midwestern road.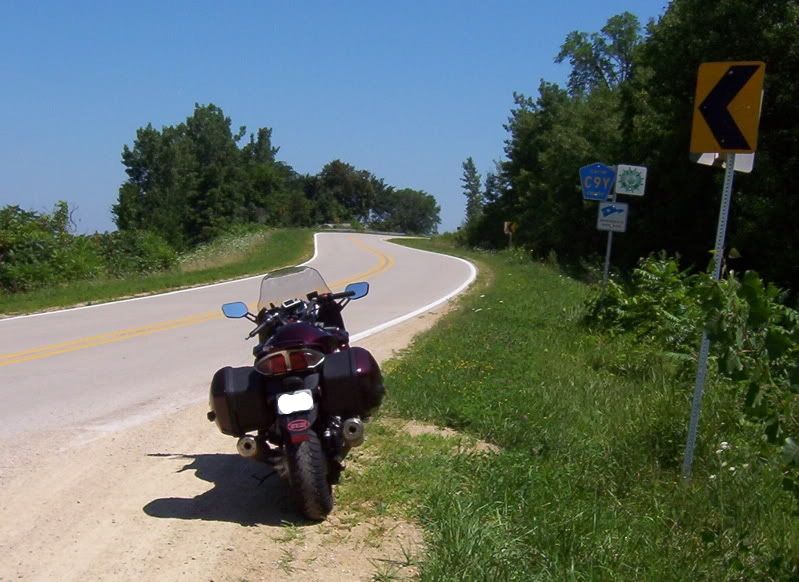 Next stop was the Mississippi Mug coffee house in charming downtown Dubuque, Iowa.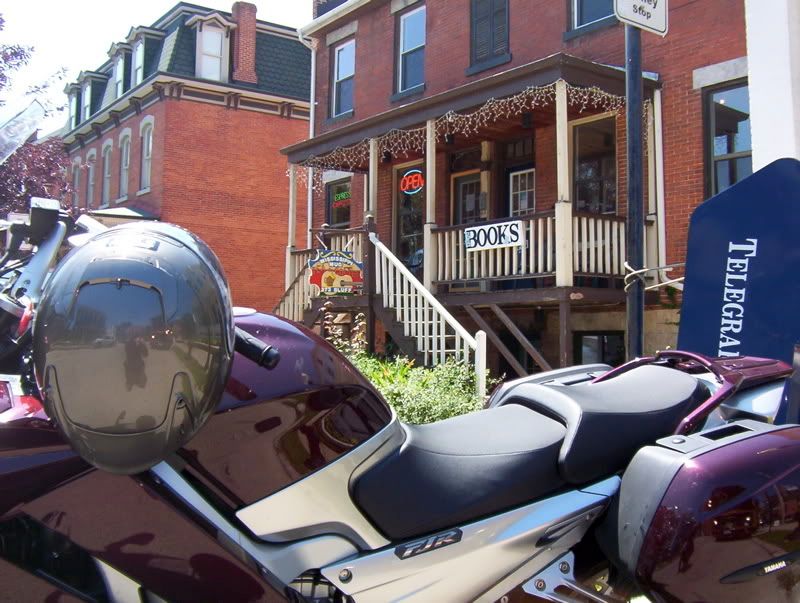 I stayed in Iowa and continued South until I got to the bridge that jumps the Mississippi at Savanna, Illinois. Almost home, now.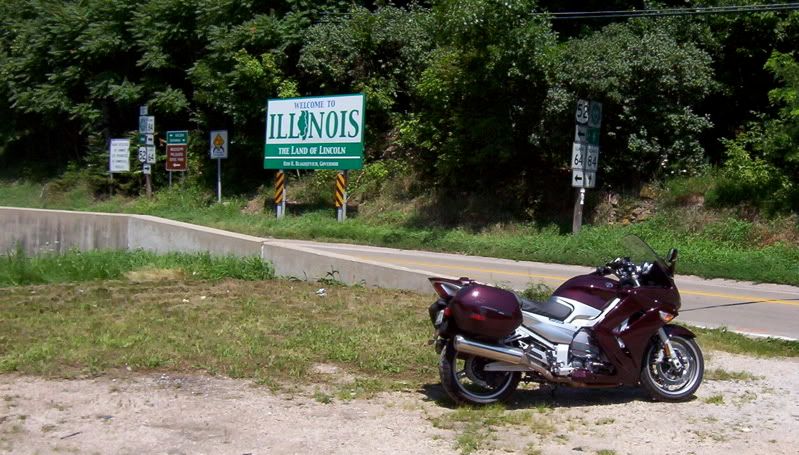 And finally I am home again.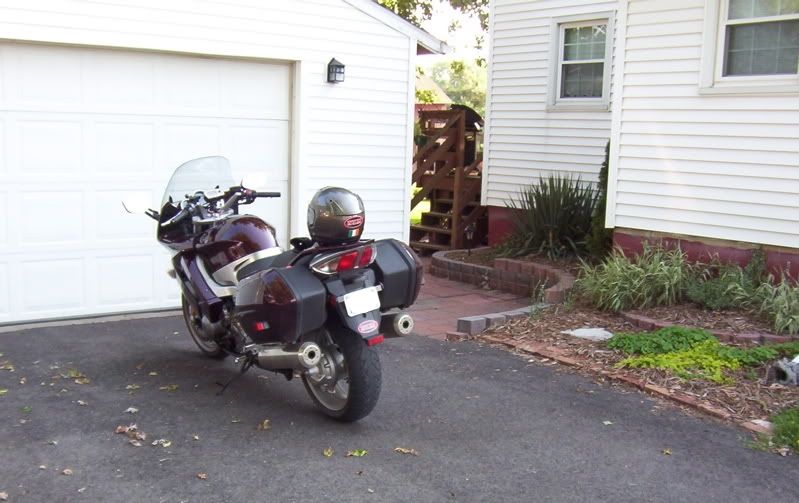 The bike and the GPS said that my trip was 1945 and 1950 miles respectively. I spent 36 hours on the move, with a moving average of 54 MPH. My top recorded speed was... well... illegal. ;) I have come to love that FJR1300 even more. The saddle bags work great and held everything I needed them to. The new gloves I got at Aerostitch (Olympia Gel gloves) really are nice. My hands very rarely got sore or cramped with the new gloves. My jacket though was just not vented enough for that much Summer riding. I had a fantastic time and would love to do something like this again. Maybe to the Dragon or the Rockies. I had occasional worries about finding hotel rooms, but it was nice to have the trip be more free-form and not have to be in a certain place at a certain time. I just let the roads lead me to interesting places. That said. It was good to be home.