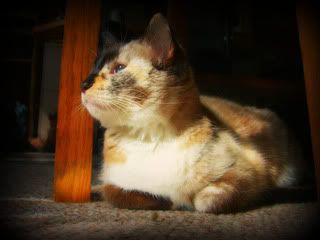 Kaylee sleeps now forever.

It has been almost three months since she was diagnosed with cancer. Liza and I did everything we could to make those the best months we could for Kaylee. And for the most part she did really well in that time. She slept more but was still her cuddly self. Only recently did her behavior change as her pain grew and we began giving her the pain killers. She got a lot more life and we got a lot more time with her than we thought we would back in March.

A week ago we picked a date to say goodbye. Our vet agreed to come to our house in early June for the procedure. But then a couple of days ago Kaylee's condition slipped even more. She was obviously in pain and even the pain meds didn't seem to make her feel much better. The infection was stronger than ever and the cancers had apparently begun to hurt. Her quality of life was degrading fast.

Yesterday I called our vet and arranged to bring Kaylee to them this morning to say goodbye. Another two weeks of waiting until the vet was able to make it to our house was going to be too long. As much as we wanted to give her extra time and save her from any more car trips -- her suffering trumped all other concerns.

It was time to say goodbye.

So this morning we drove her to the vet one last time. She was better this morning, in less pain and more alert. The car ride was harder for Liza and I than Kaylee, who was probably wondering why her people were being so emotional. The vet and staff were very nice and we got to hold her and comfort her while preparations were made. Then hold her and comfort her as the injection was given and she quietly slipped away.

Yesterday I dug a grave for Kaylee in one of our flower beds. We put her to rest in it just a while ago. She lays curled up in her favorite sleeping posture, peaceful and free of pain. Someday soon, we'll plant loads of beautiful flowers there to mark the spot and be a living reminder of that sweet kitty who sleeps now forever beneath.