There is an online community of motorcyclists called Sport-Touring.Net that organizes a national gathering every year on a rotating schedule of locations. In mid-June of 2008 the event was going to be based in Eureka Springs, Arkansas. Given that is fairly close to me and that I'd been hoping to ride in the Ozarks at some point, I decided to go.
This was my first ST.N meet outside of informal Region 4 gatherings. My original plan was to camp while down in Eureka Springs, but the weather forecast for Monday and Monday night changed my mind and I ended up at the Swiss Holiday place where most were staying.
Here is the weather radar map on Monday morning as I was preparing to leave home:
I decided to use Interstates 155 and 55 to get as far south as possible before heading west to Eureka Springs to avoid the storm front. It almost worked as I did get rained on in Branson, MO.
Getting ready to head out:
Stopped for breakfast south of Springfield, IL at a little diner / gas station.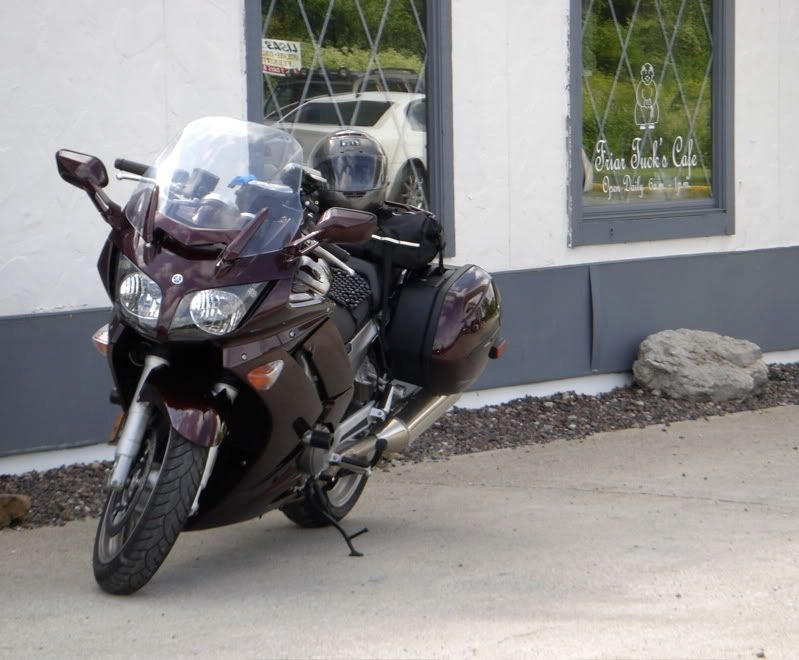 Eventually ended up in St. Louis and got a picture at the Arch.
Somewhere near Festus, MO I had enough of the slab and started using state highways.
In Bixby, MO I saw this quaint little general store / gas station.
There were lots of nice roads in that area, including MO 19.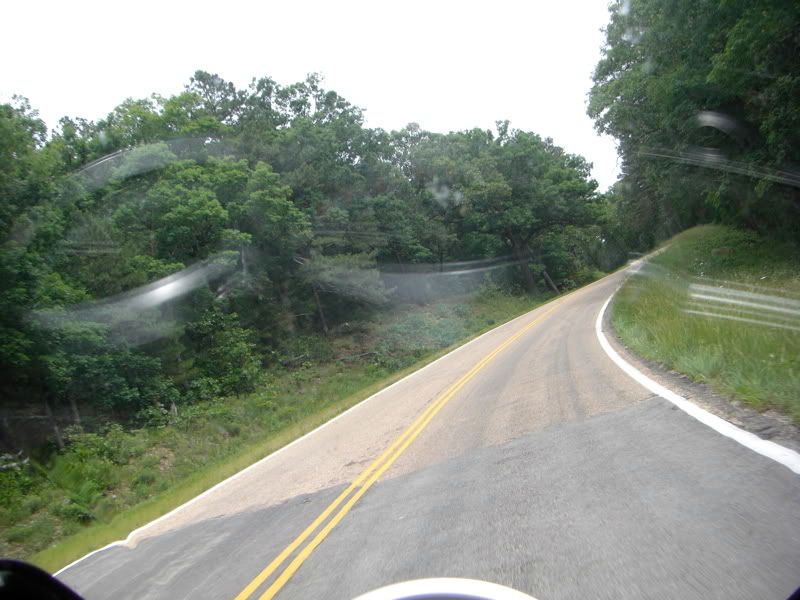 Salem, MO was a nice town. I took a break there and enjoyed the Norman Rockwell essence of the town.
Then it was time to make haste west and south to Eureka Springs. The skies were getting dark and I put the camera away and put the rain gear on again. I had started the day with the rain gear on, but had packed it again back in Illinois. It was looking like I was going to NEED that stuff soon. And I did. The heavens opened as I approached Springfield, MO and let me have it though Branson, MO and points south. Eventually I got south of the rain again. I got this shot near the Arkansas and Missouri border.
And shortly after crossing the border into Arkansas, I was treated to this sunset.
I made time from there and got to the hotel. The day ended up being 612 miles. Day 2 for me was Tuesday and would be the night of the "official" dinner. I started the day off right by joining in on a group ride organized by a guy whose nickname was Sprocket. He really put together a fantastic route!
Most of the time I wasn't really sure what road we were on, except to say were were in and out of the Ozarks National Forest. That is very beautiful country.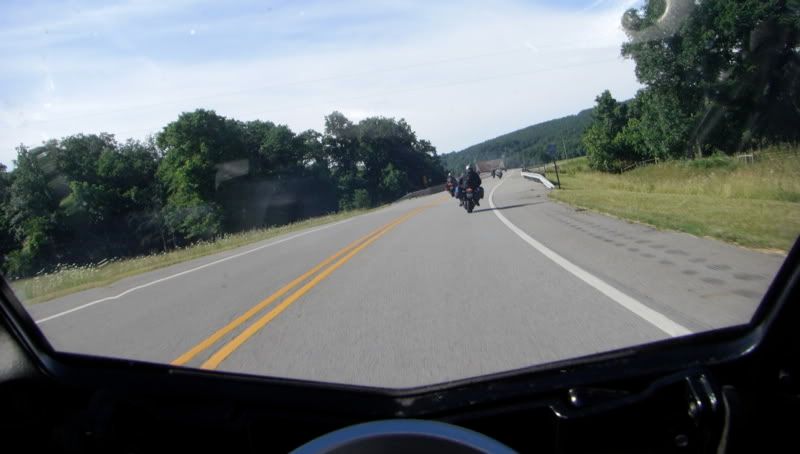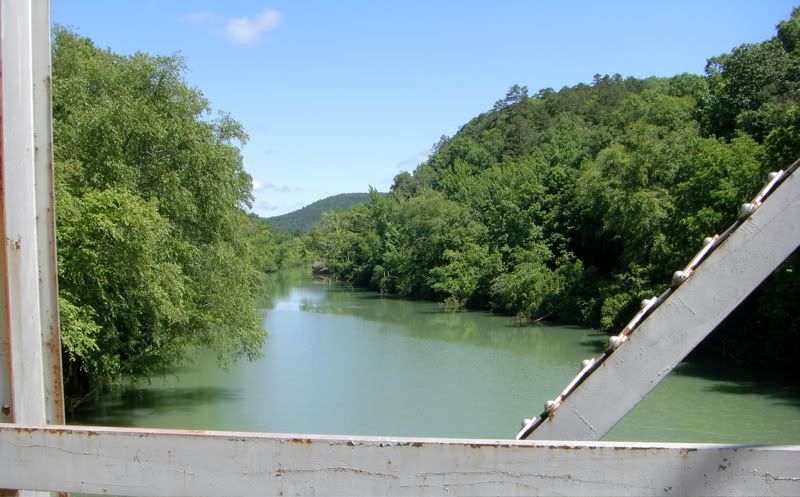 We stopped for lunch at a nice place on Route 7. Here is Roger, who must be up to no good.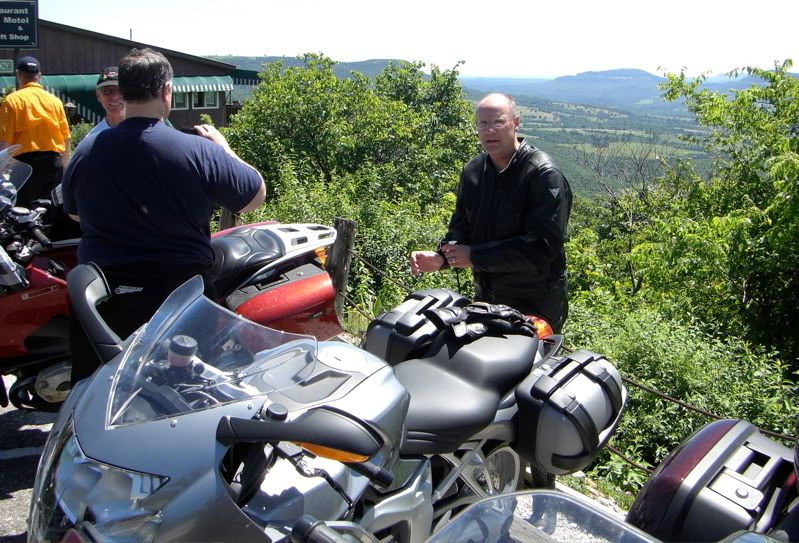 And me.
The view from the back porch of the restaurant.
More shady characters:
I split off from the group to head back to the hotel after lunch. Must rest now. Tired. Here is a very odd picture for the area. A straight road. They do exist.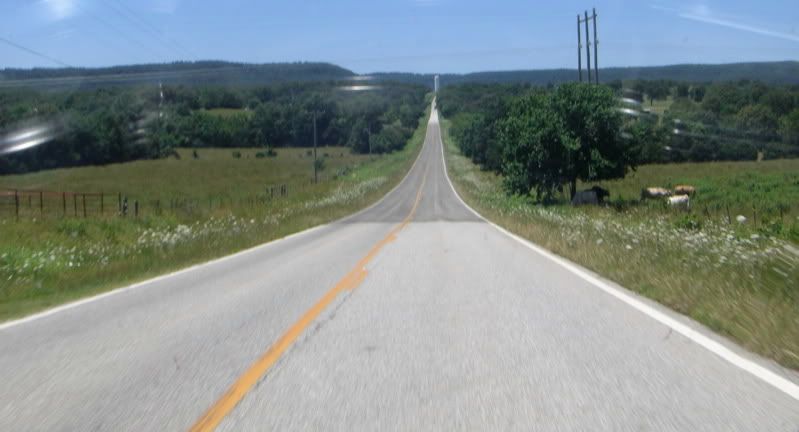 After a rest, it was time for the National Meet dinner and shindig.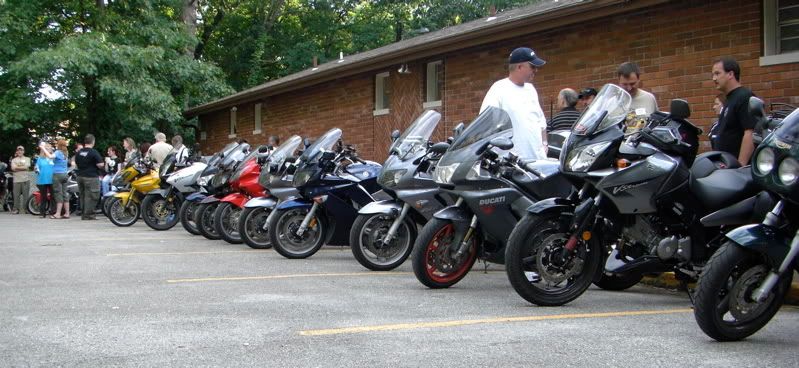 Dinner was most excellent. Thank you to all involved in putting that together!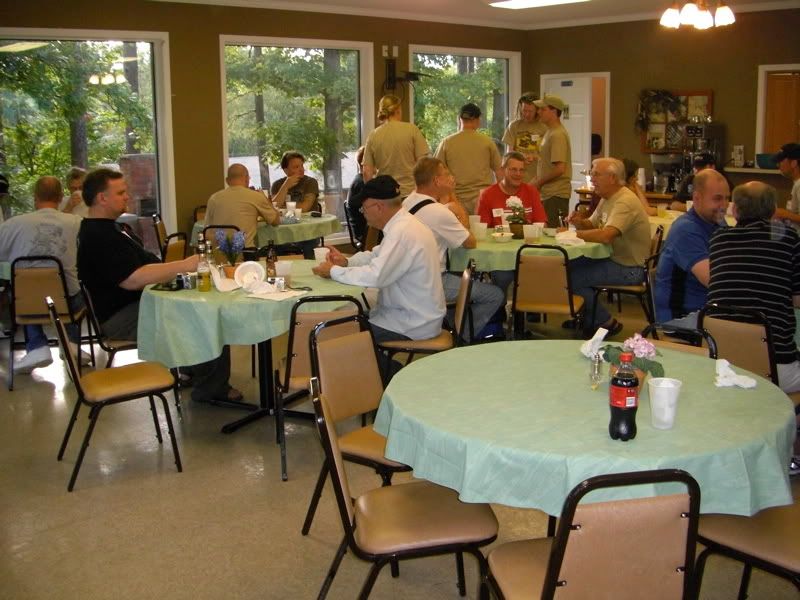 Then Allen handled the drawings for FREE STUFF!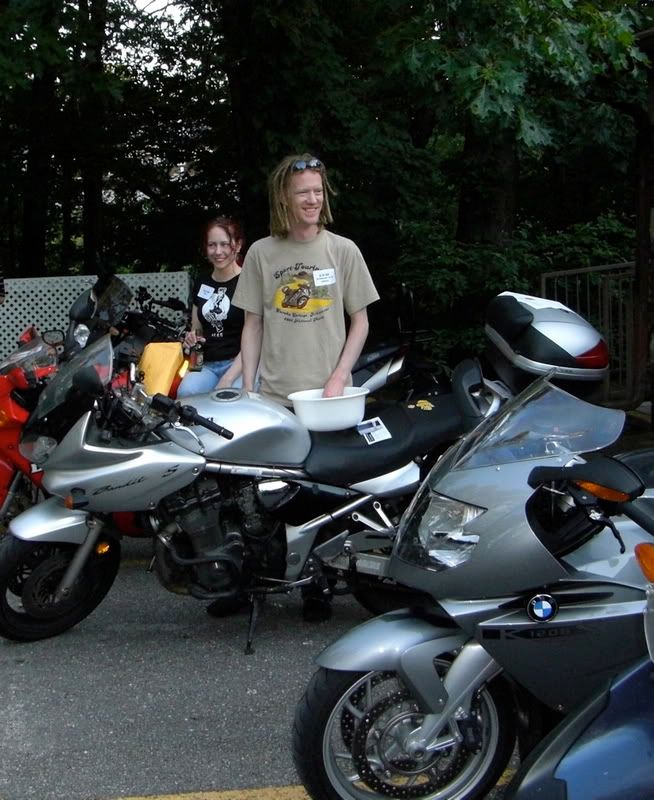 I won a gift certificate from Motorcycle Larry! Thanks, Larry. That was a very generous donation. And thanks to everyone else who made donations for the Meet. Ah. The BMW GS of Grand Illumination! I think it gave Allen some sunburn.
Day 3 dawned and I joined another group ride.
We stopped for breakfast in Huntsville, Arkansas. I think.
And then rode around the Ozark National Forest area.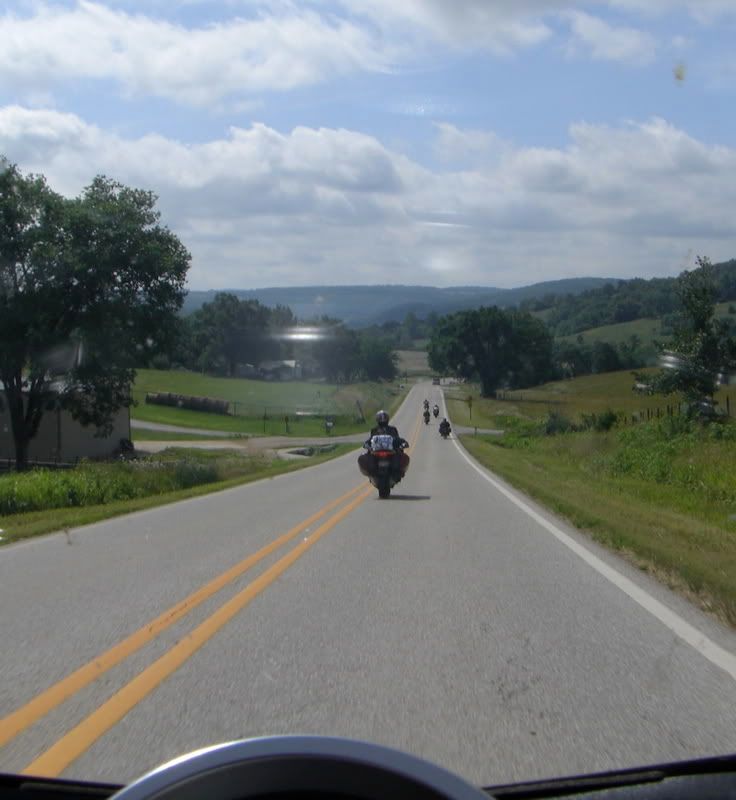 I also shot some video. This one is us heading more or less East in the Ozarks National Forest area.
http://youtu.be/EtBHVI9PLm8
Then we had lunch at the restaurant on Route 7. And the group split up. I ended up following Allen and Mike back towards Eureka Springs to visit Cycle Gadgets. I shot this video along the way in the Buffalo River area.
http://youtu.be/9tj_LJwJpb8
We made it there, safe and sound.
And then I did a little shopping in downtown Eureka Springs.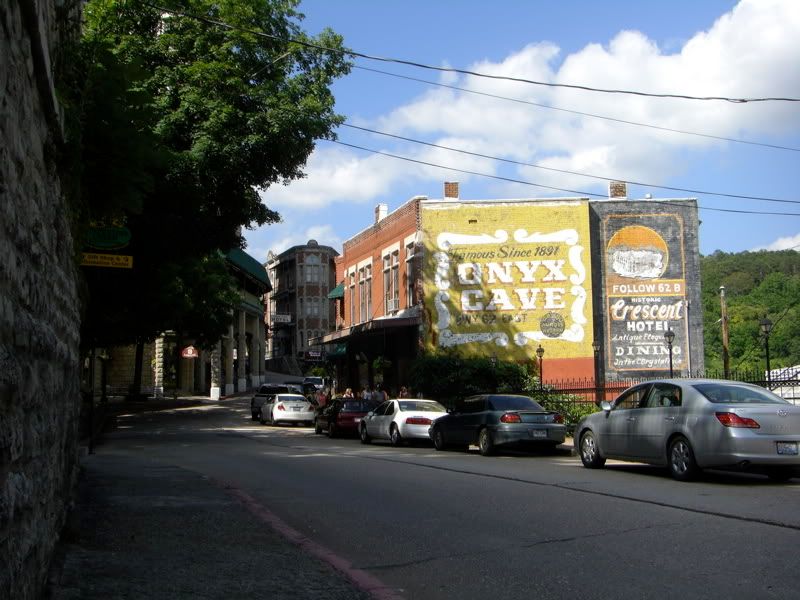 Then I enjoyed another evening of socializing. With a little go-cart racing thrown in for good measure. The following morning it was time to head home. Which I did via Interstates, except for a bit with Roger heading North out of Arkansas on some curvy roads. Otherwise it was a boring, hot day, racing home ahead of some rain.
I made it back home around 4:30 PM. The trip total was 1583 miles with 25:32 hours in motion and a 62 MPH moving average. Thanks again to those who organized this and thanks to everyone there for welcoming this newbie!